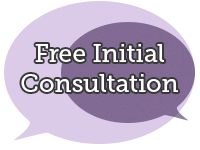 Fees & Contact

I offer a 30 minute no obligation free consultation which is an opportunity for you to understand your problem at a deeper level. This is only available over the telephone.

My fees for subsequent sessions are £65 per hour .

Stop Smoking (1 session of 90 minutes plus a 60 minute support session within 3 months if needed) £150

Cash or cheque at the time of your session is appreciated. BACS payments before the session please, I am unable to accept card payments.

For online sessions, payment by BACS before the session begins please.

Along with face-to-face sessions I can now offer you help over Zoom, so thanks to technology I am able to help you online wherever you are located in the world. Unfortunately I am unable to offer home visits.

Please email (see link top left of page) or telephone me on 01425 638817 If you would like more details on any of the above.



Cancellation Policy

I understand that life can be unpredictable at times and I appreciate your understanding the value of your appointment time. If you need to cancel or re-schedule please allow me 24 hrs notice otherwise the full fee will be charged.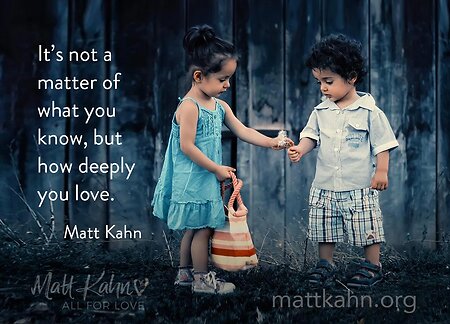 Contact

t: 01425 638817 or email using link at top left of page.

Please note that there is an ansaphone on this number as I may be with a client. If you leave your name and telephone numbers and a time of the day that is best for you to be contacted I will get back to you as soon as I can. My number will come up as withheld.

Your enquiry is important to me so if I haven't responded within 24 hours please do telephone as it means I haven't received your e-mail or my reply has ended up in your spam folder!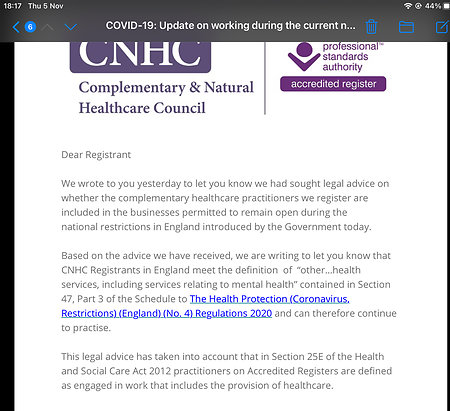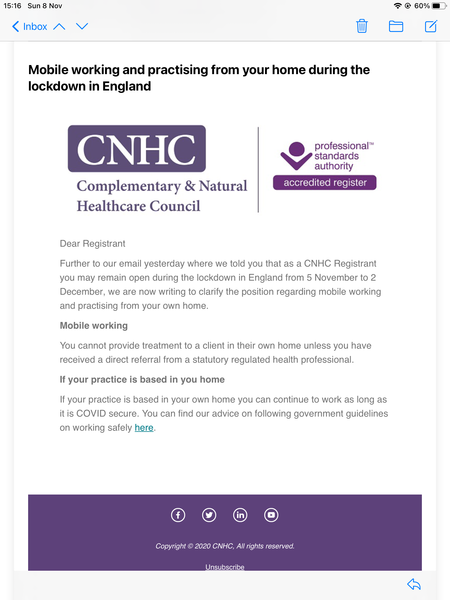 27 June 2020. Updated 1/1/2021
COVID-19 Compliance for 'face to face' Therapies

As I know you will appreciate, I am duty bound to adhere to Government statutory guidelines and those of my Professional Governing body. Listed below are the procedures I must now follow to be allowed to do 'face to face' sessions with you and these have to remain in place until further notice.

At the time of writing the NHS guidance for symptoms to look out for are as follows:

High temperature
Persistent cough
Loss or change to your sense of smell or taste.
Headache
Fatigue
Muscle aches

This guidance may be updated so check the advice on symptoms on the NHS website on a regular basis. Please let me know if you have experienced any of the above symptoms or have had a vaccine in the 14 days before your session.

Also if anyone you are in contact with has experienced the symptoms or have had a vaccine in the last 14 days please inform me prior to your session.

• Please ring the doorbell at the time of your appointment as I am only allowed one client in the house at any given time. There has to be a minimum 30 minute gap between every client to allow for sanitising and airing of the office, hall and cloakroom areas therefore all appointments have to start and finish on time.

• Before you enter the house I will take your temperature using an infra-red thermometer facilitating a 'no contact' reading. If your temperature is within NHS guidelines the session can go ahead. I will have checked my own temperature as the same rules apply.

• Before your session starts please wash your hands in the cloakroom using the anti-bacterial soap provided. There will be a fresh clean towel for your use only. A sanitiser spray will be available if you prefer. Please leave any coats or bags on the washable metal chair in the hall.

• During your session the social distancing rule of two metres will be adhered to; When this is not possible, for example taking your temperature, a mask/visor will be worn. Please bring a mask with you for your own use. There will be fresh air circulating from an open window and, if you would prefer, the door of the office can be left open without compromising your privacy

• Please bring your own tissues, pen and drinking water etc. as I am now unable to provide these for you.

• With regards payment, should you wish to pay by cash or cheque a sealable plastic bag or an envelope will be provided. If you are paying by BACS please make the transfer before your session.

• On leaving please use the cloakroom again to wash your hands or use the sanitiser spray.

Thank you for your understanding and co-operation, these procedures have been put in place for everyone's protection.


My hypnotherapy Hampshire practice is in Barton on Sea, within reach of New Milton, Milford on Sea, I treat stress Lymington, Hythe, Sway, Bransgore, Highcliffe, Christchurch, Ringwood. I practice hypnobirthing in New Milton and cover areas such as, Lyndhurst, Ashurst, Cadnam, Minstead, Totton, Bournemouth, Southbourne and Southampton, New Forest, East Dorset, South Dorset and Hampshire. I also work online.